The Jihad terror attack on a gay bar in Orlando, Florida poses an impossible problem for the Left and their Controlled Media, who will find it next to impossible to spin in favour of their Globalist agenda of Islamophobia, Open Borders, MultiKulti and Gun Control.
But they will try, they will certainly try.
---
Lone Wolf vs Individual Jihad
---
Omar Mateen, a US born Muslim with Afghan immigrant parents, planned an assault on a gay bar to enforce Shariah laws following calls from ISIS for Muslims worldwide to carry out acts of 'Individual Jihad'. This is an actual doctrine of Jihad which the presstitute media tries to spin as 'lone wolf' attacks, somehow trying to imply it was neither organised terrorism, and instead the deranged acts of mentally ill loners. This is yet another Orwellian example of the 'destruction of language', and subversion of logic to fit the Leftist paradigm of (un)reality. So let's get this 'lone wolf' nonsense out of the way first.
Here is an impressive video regarding 'Individual Jihad'. Watch after the article if you want to understand how Individual Jihad is an essential part of Jihad, and the new weapon of terrorists because it is much harder for Western security services to stop than organised terror cells.
This is part 6 of a much larger (essential viewing) 'Red Pill brief' that was given to US security services prior to President Obama coming into office and expunging all such training which relates Islam with terror (incredible, but true).
By talking about 'lone wolf' attacks, this allows them to extract both terrorism AND Islam from discussion of the event.
They can talk about the lack of evidence of terror connections, the lack of evidence that he was religious – and skirt around the fact the killer pledged allegiance to ISIS, that ISIS is carrying out executions of gays and encourages others worldwide to do the same, and that Islam itself is completely homophobic.
If we haven't already seen it, expect the following:
Reports from ex girlfriends or college friends or neighbours, that the killer was mentally ill
Reports of being a loner, reclusive, problems with drugs / alcohol / depression
Relatives and community will state the killer was not religious and therefore Islam was not a factor, that Islam is a 'religion of peace'
Stories about a troubled childhood, excessive video game use, and other extraneous information unrelated to the real issue of Islamic motivated terror
Security services, media and Government will decry the lack of evidence of communication between the killer and any 'known terrorist organisation' and talk about him 'acting alone' and 'no known links'
Concerns raised about right-wing backlash, rising Islamophobia, the need for more tolerance and diversity to combat 'hate'; increase in Islamophobia related stories within the news cycle
Arguments that Trump's 'anti-Muslim rhetoric' may have contributed to 'isolation' of Muslims and 'radicalisation' of a mentally ill man
Cultural relativist discussions of foreign policy, of Christian homophobia, of non-Muslim attacks on LGBT communities. The Crusades or Iraq War mightbe recycled
Likewise, LGBT social engineers will decry discussion of Islamic motivation, as opportunistic when we should 'only' be taking about 'widespread homophobia' throughout the West, and that 'hate' was the motive not religion
Leftists everywhere attacking 'Cjristians' or 'right wingers' for only caring about LGBT because its an opportunity to 'bash Muslims' – check their Twitter feeds – all outrage and hate will be focused on the right / Christians / Islamophobia  etc
Constant admonishment that any discussion of Islam is tantamount to "offending all good Muslims everywhere" who aren't bullet-spraying gays, and that to make any connection between the religion and the event is opportunism, and serves to 'spread hate and Islamophobia'
This is the usual pattern after such events.
Soon we will see the obligatory Twitter and Facebook 'flag' backgrounds to show 'solidarity' with the victims. Like French and Belgian flags, expect to see Gay Pride rainbow flags. Oh. And we can rest assured the news cycle will be filled with live images of candlelit vigils in capital cities worldwide. Front and centre will be the likes of Sadiq Khan and other Muslim figures, to spin the narrative that Islam does not have a problem with the LGBT community, and no mention of the fact that HALF of all British Muslims want 'gay sex banned'. (and that's only the ones who would admit it in a public poll, bearing in mind Islam permits lying to nonbelievers if it protects Islam from scrutiny – called Taqiyya).
All of this has a watering-down effect on the event, to confuse the public and mislead them about the obvious reality that this is entirely a problem of Islam, its inherent intolerance of 'sexual perversion' (which includes, but is not limited to homosexuality).
The intent is to perpetuate to PC distortion of reality and keep the public from believing what their lying eyes are telling them.
---
The 'House of Cards' Victimhood Pyramid
---
The Leftist / Liberal / Progressive 'pyramid of victimhood' never made any sense, without severe brainwashing and the ability to self-suppress common sense where it contradicts Leftist dogma. It is a system of dogma and emotion-based reactionism, which is antithetical to common sense and dispassionate rationalism.
It is a carefully construct house of cards that is only able to defy gravity for this long, because of the media, academia and politics has been completely subverted by Cultural Marxists who have completed the 'Long March through the institutions'.
To recap, Cultural Marxism is Marxism 2.0. Marxism works on creating division between groups by making some people 'victims' and others 'oppressors', then feeding on the grievance of the victims, uses them to enforce social change or ultimately revolution so that a socialist / communist Statist totalitarian regime can take over. The weakness of traditional Marxism is that it only divided by economics, i.e. vertical division between the 'haves' and 'have nots'. The Cultural Marxists realised that when the Bolshevik Revolution didn't catch like wildfire throughout the West, that society was too strongly bound by 'Judaeo-Christian' values: in particular, notions of family, gender roles, religion, ethics, sexuality, sexual identity, ethnicity etc – all had to be overturned and attacked.
Cultural Marxism then is about creating many more fractures throughout society, but not vertically – this time horizontally within various subgroups. So LGBT is about the oppression of heterosexuality and traditional family ideas. Women's rights was about the 'oppression of the patriarchy' and men's oppression of women.
In this carefully constructed paradigm, only the 'oppressors' in each subgroup are allowed to be attacked, and each subgroup, regardless of how little they had to do with each other or indeed if there are conflicts – MUST defend the other subgroups. So we have Feminists screaming about bikini ads, but staying silent about FGM, polygamy, forced marriage etc. We have LGBT communities marching against Islamophobia and Refugees Welcome, but staying silent about Iran hanging gays from cranes, Sharia patrol beating up gays, ISI throwing gays off buildings etc.
Everyone must be marching together, and the enemy is: Christian, male, heterosexual, nuclear family, CIS-gender, white…
LGBT and feminism have become the lynchpins of the Long March and have had the most effectiveness in creating the drastic social and political change over the last half-century. However multiculturalism has created a new groups (lets call it BAEM – black and ethnic minority). This has grown massively in importance as the demographic face of the West has changed rapidly through concerted MultiKulti / Open Borders policies leading to the normalisation of mass uncontrolled immigration.
The forefront of this immigration is the import of the worlds most intolerant religion, Islam, and the social fracturing this has caused. The Left have ignored the fact that Islam is utterly intolerant and is antithetical to their 'victimhood pyramid' – ie, Islam treats women and gays worse than any other ideology or religion on the face of the planet, or indeed in human history. This is completely ignored. How they have achieved this gravity-defying act is a testament to how complete and successful the Long March through academia and then media, politics and now even organised religion.
Islam has been placed beyond reproach, and indeed given a completely separate and unreachable position on the Victimhood Pyramid – it is, if you will, the 'capstone' group.
The reason it is protected so viciously and so completely, is because the real Cultural Marxist controllers in the background – the Social Engineers who are trying to collapse the West – see it as an incredibly powerful battering ram to enforce through and speed up their agenda.
Islam is so politicised and punches so strongly above its weight, that through making this group untouchable (see: Islamophobia) – huge damage can be done to social and cultural norms, accelerating the collapse of society.  In particular, the creation of 'hate crimes' for perceived 'Islamophobia', creates a chilling pretext to completely change Western notions of Freedom of Speech. Now, instead of being a doctrine on paper that deserves critical examination (like the Left have done with Christianity for decades) – now even drawing Muhammad, or quoting him, is an act of violence with specific laws to punish the perpetrator.
This sets the precedent (what the Left REALLY want) – that the State can control thought and speech, and any criticism of the Leftist programme can therefore be branded 'hateful' and censored and its transgressors duly punished. So even the 'truth' or 'fact' can now be deemed 'hate'.
Consider how in New York, if you fail to use the right pronouns for a transsexual person, you can be fined and/or have your business closed down. This, despite humans only ever being genetically coded as either XX (female) or XY (male) – and that no amount of genital mutilation surgery or hormone treatment can ever change this biological fact. But social science theory (developed by Leftists int he last few decades) now trumps actual scientific reality.
Consider how Germans who criticise the political policy of uncontrolled mass immigration (which should be fair political critique), are now deemed 'far right' and are committing 'hate crimes' conflating it with racism and xenophobia. Now, people are having computers confiscated, houses ransacked, fines, children taken away from them, or even losing their jobs – over views expressed on social media. This has been normalised because of 'tolerance' and 'diversity' measures enacted in the pretence of protecting 'oppressed minorities'. But now, it is 'uncloaking' and showing its true agenda: bringing in a form of socialist totalitarianism that Orwell warned about. Just look at the new internet censorship legislation which is coming in: created by unelected EU bureaucrats, in coordination with tech billionaires, created in complete secrecy without any form of public consultation.
Now Western society is beginning to fragment so much, that in the name of 'tolerance' and 'inclusiveness' – we are allowing Muslims to enforce Sharia law, not only with courts in the UK, but in Germany a court deemed that Muslims on 'Sharia patrols' were not breaking the law.  Now, there is a parallel legal system set up in Germany where crimes which were previously illegal, are fine – so long as you are Muslim. For example, child marriage and polygamy – have both been permitted in Germany (for Muslims only) – as judges increasingly cite Sharia Law for the basis of their decisions which reverse centuries of cultural norms and legal precedents in the West.
So the agenda is clear – using perceived oppression of minority groups, the Social Engineers seek to collapse all social and cultural norms, and erode and subvert the rule of law, to precipitate a Cultural Revolution. If you don't believe it yet, ask yourself how much more drastic change can Western nations take before people sharpen pitchforks and full-scale social / civil / ethnic violence erupts.
We are reaching a critical mass point, where social changes are becoming so shocking and drastic, and occurring over increasingly short timespans – that the brainwashed masses are beginning to wake up. Their PC-goggles are being ripped from their eyes with each impossible delusion they are being asked to believe as 'the new truth'.
And this is the problem the Left has with this insane agenda: as they reach what they believe to be their moment of triumph – they are in fact laid bare and exposed, and their agenda will be at its weakest as it collapses internally (discussed below) and it is exposed to the general public.
The Left risks a grim reckoning on itself, the closer we get to complete social breakdown.
---
What Islam Says About Homosexuality
---
(NB – this section is taken directly from the excellent The Religion of Peace website, to ensure its read in full. Unless we understand and accept what Islam itself says – we will forever be at risk of being mislead by the 'cultural relativists' who seek to confuse by saying "the Bible says xxx as well". Feel free, however, to skip to the next section if this Islamic doctrine examination is too academic at this stage:)
First, here is a video of an Imam from Britain speaking at a Florida mosque, the location of the shooting:
What is Islam's position on the treatment of homosexuals?
Islam goes beyond merely disapproving of homosexuality. Sharia teaches that homosexuality is a vile form of fornication, punishable by death.
Beneath the surface, however, there are implied references to homosexual behavior in paradise, and it has been a historical part of Arab and Muslim culture.
Quran
Quran (7:80-84) – "…For ye practice your lusts on men in preference to women: ye are indeed a people transgressing beyond bounds…. And we rained down on them a shower (of brimstone)" – An account that is borrowed from the Biblical story of Sodom. Muslim scholars through the centuries have interpreted the "rain of stones" on the town as meaning that homosexuals should be stoned, since no other reason is given for the people's destruction. (The story is also repeated in suras 27 and29).
Quran (7:81) – "Will ye commit abomination such as no creature ever did before you?" This verse is part of the previous text and it establishes that homosexuality as different from (and much worse than) adultery or other sexual sin. According to the Arabic grammar, homosexuality is called the worst sin, while references elsewhere describe other forms of non-marital sex as being "among great sins."
Quran (26:165-166) – "Of all the creatures in the world, will ye approach males, "And leave those whom Allah has created for you to be your mates? Nay, ye are a people transgressing"
Quran (4:16) – "If two men among you are guilty of lewdness, punish them both. If they repent and amend, Leave them alone" This is the Yusuf Ali translation. The original Arabic does not use the word "men" and simply says "two from among you." Yusuf Ali may have added the word "men" because the verse seems to refer to a different set than referred to in the prior verse (explicitly denoted as "your women"). In other words, since 4:15 refers to "your women", 4:16 is presumably written to and refers to men.
Interestingly, the same rules don't seem to apply in paradise, where martyrs for the cause of Allah enjoy an orgy of virgins and "perpetual youth" Quran (56:17) (otherwise known as "boys" Quran (52:24)). Quran (76:19) bluntly states, "And immortal boys will circulate among them, when you see them you will count them as scattered pearls." Technically, the mere presence of boys doesn't necessarily mean sex, however it is strongly implied from the particular emphasis on the effeminacy, handsomeness and "freshness" of the boys. The female virgins of paradise are also compared to pearls (56:23).
[Editor's note: We are not implying a link between homosexuality and pedophilia here anymore than we are implying one between heterosexuality and pedophilia when recounting that Muhammad's preferred wife was a 9-year-old girl.]
Hadith and Sira
There are several lesser hadith stating, "if a man comes upon a man, then they are both adulterers," "If a woman comes upon a woman, they are both Adulteresses," "When a man mounts another man, the throne of God shakes," and "Kill the one that is doing it and also kill the one that it is being done to."
Abu Dawud (4462) – The Messenger of Allah (peace and blessings of Allah be upon him) said, "Whoever you find doing the action of the people of Loot, execute the one who does it and the one to whom it is done.".
Abu Dawud (4448) – "If a man who is not married is seized committing sodomy, he will be stoned to death." (Note the implicit approval of sodomizing one's wife).
Bukhari (72:774) – "The Prophet cursed effeminate men (those men who are in the similitude (assume the manners of women) and those women who assume the manners of men, and he said, 'Turn them out of your houses .' The Prophet turned out such-and-such man, and 'Umar turned out such-and-such woman."
al-Tirmidhi, Sunan 1:152 – [Muhammad said] "Whoever is found conducting himself in the manner of the people of Lot, kill the doer and the receiver."
Reliance of the Traveller, p17.2 – "May Allah curse him who does what Lot's people did." This is also repeated in three other places.
Notes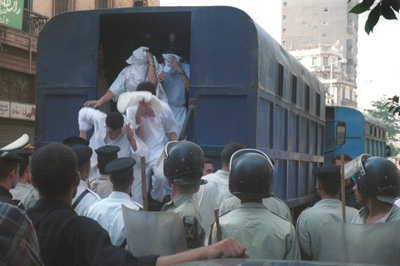 (Image: Gay men being rounded up for "processing" in the Islamic world, where homosexuals are
demonized
,
banned
,
beaten
,
probed
,
forced
into marriage,
flogged
,  
incarcerated
,
lashed
,
hanged
,
brutalized
,
stoned
,
thrown from roofs
,
tortured and shot
.)
Homosexuals are beheaded, hung and stoned in modern Saudi Arabia and Iran, where Muhammad's laws are applied most strictly.  Five other Muslim countries also have the death penalty on their books for homosexual behavior.  In the past, gays were burned.
As one cleric recently put it, the only point of theological debate is not whether the homosexual should be killed, but how it should be done.
In 2016, an educated imam in Tunisia explained that while it may seem harsh, there is not ambiguity about this in Islam:
"God is very straightforward about this — not we Muslims, not subjective, the Sharia is very clear about it, the punishment for homosexuality, bestiality or anything like that is death. We don't make any excuses about that, it's not our law — it's the Quran"
There are several places in the Quran where the story of Sodom is repeated, with emphasis placed on the destruction of the town for homosexual lewdness. Also, according to Serge Trifkovic:
"Mohammed's first successor Abu Bakr reportedly had a homosexual burned at the stake. The fourth caliph, Mohammed's son-in-law Ali, ordered a sodomite thrown from the minaret of a mosque. Others he ordered to be stoned. One of the earliest and most authoritative commentators on the Koran, Ibn 'Abbas (died 687) blended both approaches into a two-step execution in which "the sodomite should be thrown from the highest building in the town and then stoned." (source)
Ayatollah Abdollah Javadi-Amoli of Iran said, in April of 2012, that homosexuals are inferior to dogs and pigs, since these animals (presumably) do not engage in such acts. In November of that year, a cleric on British television stated, "What should be done to those who practice homosexuality? Torture them; punish them; beat them and give them mental torture."
A 2014 fatwa from the mainstream OnIslam.net proclaimed that homosexuality is "abnormal" and abhorrent" and confirmed that gays should be killed: "The punishment for men or women who are unwilling to give up homosexuality and therefore are rejecting the guidance of Allah Most High is in fact death according to Islam."  An imam invited to speak at a Florida mosque in 2016 said that killing gays was an "act of compassion".
Since the resurrection of the caliphate in 2014 (the Islamic State in Iraq and Syria) dozens of homosexuals have been thrown from rooftops.  Other have been stoned to death.  Interestingly, the caliph, Abu Bakr al-Baghdadi, allegedly issued a fatwa in 2015 permitting Mujahideen to "enjoy" young boys if women were not available.
Although some Muslim political leaders in the West join with social liberals in alliances that sometimes include peripheral support for gay rights and civil unions, this appears to be more a matter of expediency than genuine concern. There has never been any noticeable effort on the part of Muslim leaders in the West to relieve the plight of homosexuals in Islamic countriesoverseas – where their influence would surely carry more weight than that of their secular allies.
(As a side note, in 2012, a cleric issues a fatwa endorsing sodomy as a means of widening the anus in order to pack it with enough explosives to kill bystanders in a suicide bombing. As Sheikh Abu al-Dema al-Qasab put it, "Jihad comes first, for it is the pinnacle of Islam, and if the pinnacle of Islam can only be achieved through sodomy, then there is no wrong in it."
Further discussion on Wikiislam.net – here and here – with a specific discussion of the persecution of gays worldwide today here.
---
The Victimhood Pyramid Begins To Topple
---
The problem this latest Jihad event poses is that with each successive attack, more an more people refuse to believe the lies told to them by a completely distant and detached media and political Elite.
How many times can we hear 'Islam is the Religion of Peace', after each successive atrocity where the perpetrator self-declares that the acts is inspired by Islam?
How many times can we be expected to change our Facebook background images, or wave candles, or swap messages about 'Choose love over hate'?
How long can we be expected to feel sorry for the Muslims and the 'right wing backlash' which never seems to materialise? (besides bacon on mosque door knobs, or some random Muslima having her headdress ripped off, or iPhone footage of a Muslim getting verbal abuse on the Tube – all of which get massive airtime and media coverage, while the media and police conspire to keep migrant (Muslim) crimes secret)
The fact the Jihadi rang the police to inform them of his allegiance to ISIS and his motivation, is telling. The Jihadis are infuriated each time an act of terror is called 'mental illness' or 'lone gunman', and the true motivation is whitewashed by the Western media.
This Jihadi wanted to make absolutely sure there could be no doubt as to his motivation.
But now since Trump broke PC taboos by discussing the self-evident links between Islam and Islamic terrorism, he predicted such attacks would happen again and would increase unless there was an honest discussion about Islam and the rationality of importing (without being able to vet) massive numbers of people from areas where hatred of the West and radical Islam are endemic. How galling it must be for the Left that he is proven right.  Instead, they will simply hate him even more for truth-telling:
Here's Uber Left and openly gay Guardian journalist Owen Jones (and TV pundit) on Twitter:
Last night Owen Jones through a massive hissy fit and walked off a Sky News set when the conversation turned to linking Islamic terror to the event, when Owen Jones only wanted to talk about "an attack on the LGBT community".
A clear example of cognitive dissonance was displayed: unable to answer, or to process, the reality that Islam is inherently homophobic and poses a real and present danger to the LGBT community – Owen simply stomped off set. Like most Leftists, when their bubble of dogma is breached by cold hard reality – they cannot handle it, and so resort to petty behaviour like storming off, screaming personal ad hominem insults, or pulling out a PC-card (homophobe, racist, Islamophobe etc). Owen Jones has long been a staunch proponent of full-spectrum Cultural Marxist agenda: Open Borders, Refugees Welcome, LGBT against Islamophobia, and fawning over a Muslim London Mayor.
Herein lies the rub.
Such a direct and horrific attack by a radical Muslim against the LGBT community cannot, simply CANNOT, be ignored.  They will hate the messenger, but the message will sink into the psyche of many. I am sure, out of earshot of the bullying Leftists who seek to whip all minorities into the same homogeneous 'march of the minorities' agenda – there are many in the LGBT community who will be terrified. They may even research and wake up to the reality of Islamic homophobia and that unlike cruel words or refusing to bake cakes or allowing a gay couple to share a B&B room – ISLAMIC homophobia has a completely different outcome.  Not a micro-aggression or hurtful bigotry, but actual threat to life and limb. It is comparing a broken carrot with a meat cleaver – which is more harmful? And the Leftist lie that it is all 'culturally relative' / 'morally equivalent' worldwide problem of homophobia just does not wash. It makes zero sense.  "Homophobia has no religion" – yes, but the fact is, in 10 Muslim countries, the law says you need to be thrown off a roof or stoned to death – and there is simply no comparison to the sort of 'persecution' the average gay experiences in the Liberal West.
The Victimhood Pyramid – with Muslims on top with special privilege status – is beginning to teeter. What happens if one of the victimhood groups propping it up – the feminists, or more likely LGBT – suddenly has a breakaway movement which actually (heaven forbid) makes ISLAM its main target, and not the mythical evil of the "Christian white male"?
We have already seeing members of the LGBT community come out to expose the lies of the Left, like Breitbart's flamboyant and truly excellent Milo Yiannopoulos. He points out that self-delusion about Islam is putting gay people at risk. Many members of the LGBT community will now (secretly or openly) decide to vote Trump or Brexit – simply out of fear of the mass-importation of the most intolerant ideology in the world. When it becomes a matter of self-preservation, the carefully constructed paradigm of Leftist lies, simply loses its hold over people.
Pain, suffering and imminent danger is what usually wakes people up to any self-delusion. And the Left and their love affair for Islam – and decision to make it a privileged minority – will be severely challenged by this incident.
It could be a massive destabilising assault on the fabric of the carefully-constructed, gravity-defying Victimhood Pyramid. The Left could suffer a catastrophic collapse, a cascade of infighting which will cause not only a rise in the right, but such a fragmentation of the Left so as to become politically gravely weakened. As formerly united minorities begin to bicker and argue, the Useful Idiots and general public will see this collapse and it will break the spell of political correctness. We are already seeing this process begin, to a certain extent. It will accelerate with this event, and accelerate again when the next major (and inevitable) terror attack happens in the West.
The marriage of convenience between Islam and the Left could collapse, and thereby cause the collapse of the Left throughout the West. If anything positive can come out of this horrific event, this could be it.